Silicone Sleeve is also called silicon sleeve,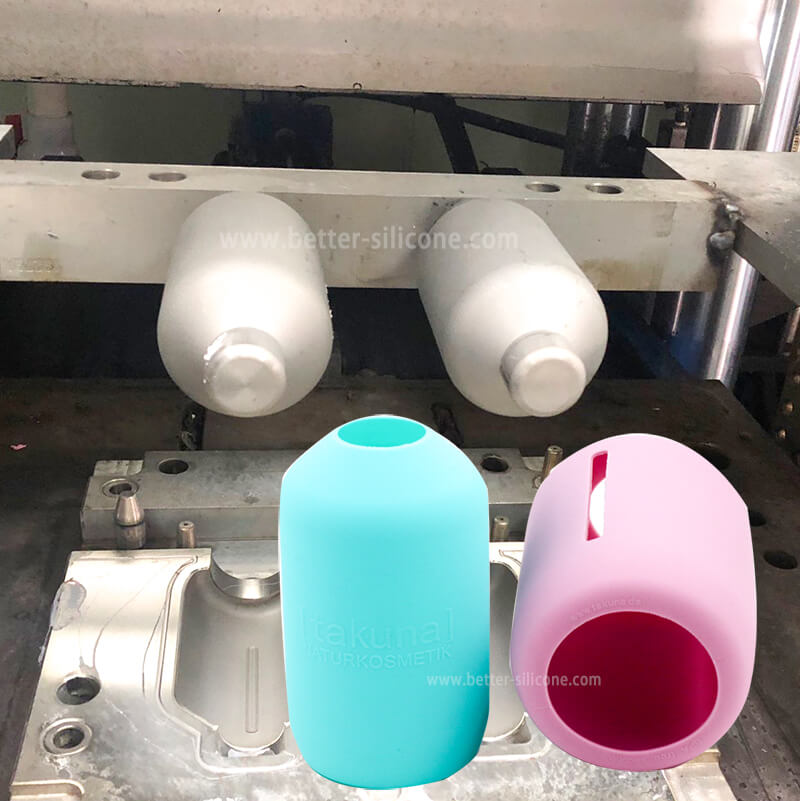 silicone sheath, rubber sleeve, Silicone Bottle

Sleeve, Water Bottle Cover, which is made of elastic silicone rubber ( MVQ ) materials by compression mold tooling with horizontal stripe, working like bushing, bellows, damper or bumper, etc.
Other rubber sleeves are mainly made of EPDM, neoprene, NR, NBR, PTFE, Silikon materials, etc, and some of them are molded with metal parts like bronze, steel, brass and so on.

How to Start a Silicone Bottle Sleeve Project?

1.Our experience engineers provide sleeve and cover free design support, manufacturabilty analysis.

2. Porvide mold layout according to silicone sleeve structure and customers' quantity.
Different types of sleeves & cover will have different mold layout and parting line/joint line. Normally there are two different types:



1. Easier and Cheaper Mold-making. This is suitable for simple short bottle bottom covers. Only need a simple 2 plate mold to compress.
| | | |
| --- | --- | --- |
| Mold Layout | | Silicone Bottle Cover Mold |
2. Complicated and Expensive Mold-making: Long cylinder water bottle sleeve. Will need mold core to form.
| | | |
| --- | --- | --- |
| Mold Layout | | Silicone Bottle Sleeve Mold |
The parting line location of these two different types of sleeve&cover is different: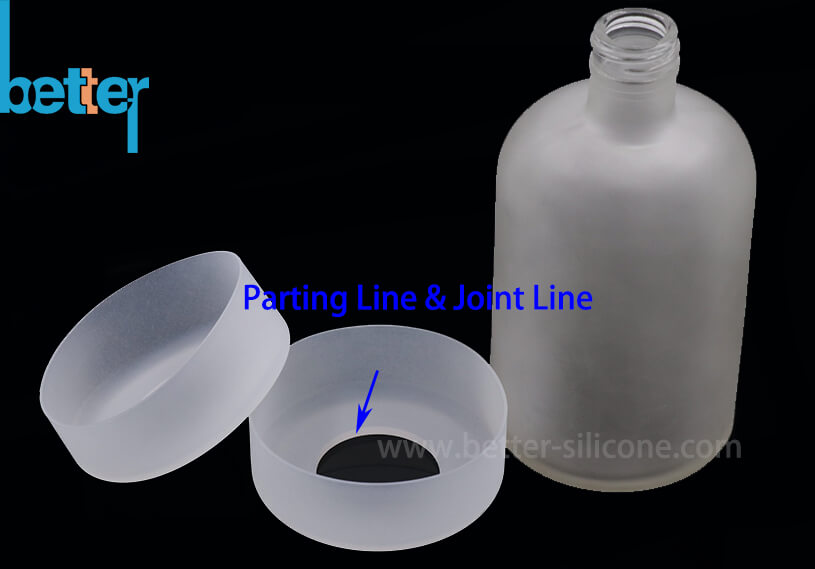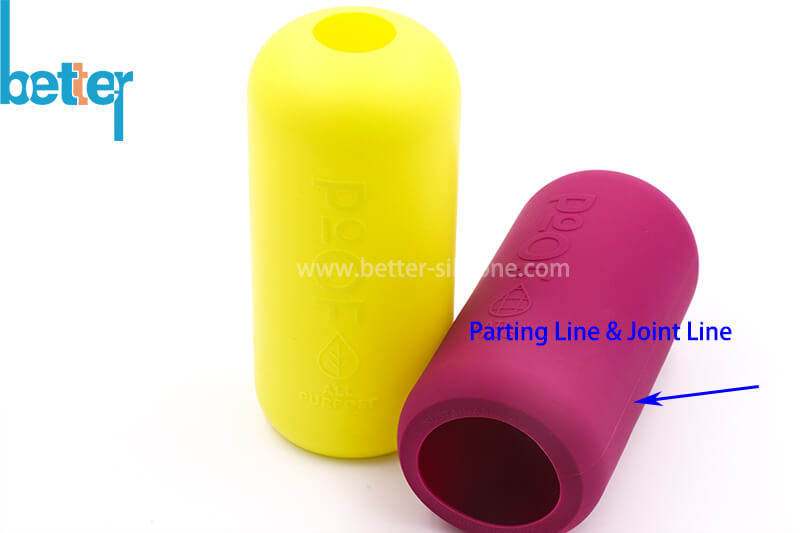 Why some sleeve's parting line will becoming larger and larger and edge breaks easily?

Mold steel is not good enough. With time going, the mold is not as precision as before, so the parting line becomes larger.


Hardness is too low.

Add too much vulcanizing agent during production.

Mold temperature is too high.

Silicone Sleeve' Surface Text & Logo Treatment

| | | |
| --- | --- | --- |
| Silk Screen Pringting for Silicone Case | | Custom Silicone Rubber Sleeve |
| | | |
| --- | --- | --- |
| Hydrographics Transfer Printing for Bottle Sleeve | | Roll Printing for Baby Bottle Sleeve |
Silicone Sleeves Features:
Silicone Sleeves are heat insulated and good anti-scalding products, the same to insulating gloves, which provide insulation for hot and cold water, especially for coffee cup and baby bottle. Silicone sleeve help insulate drinker's hands from hot cup and bottle and prevent breakage and leakage. Common Sleeves: coffee cup sleeves, glass water bottle sleeves, baby bottle sleeves, cup sleeves, travel mug silicone sheath, etc.
Silicone Sleeves are good anti-skid ring products as materials stickiness and sleeves surface non-slip grip designs pattern for baby drink bottles and glass bottles, which protect milk bottle or water bottle from breakage, and kids can firmly hold the bottle by their little hands.
Silicone Sleeves

are good shock proof and breakage proof elastomer rubber sheath, serving as rubber damper or rubber bumper:



Silicone Sleeve

can be made of 100% FDA food grade silicone, which is BPA free, non-toxic, mainly used for milk or baby water bottle, water glass, etc.