Nitrile Gasket & Buna n Seal & NBR Gasket
Nitrile Gasket

, also called Buna N Gasket &

NBR Rubber Gasket

&
Nitrile Butadiene Rubber Gasket, known as oil-proof NBR O-ring & Seal, is made from Butadiene and Acrylonitrile through emulsion polymerization method, molded by rubber compression & injection & extrusion molding & die-cutting toolings.
Nitrile Gasket & Buna N Seal Properties:
1. Excellent Oil Resistance, better than natural rubber (NR), neoprene rubber (CR), styrene butadiene rubber SBR, rank only second to Flurorubber & Viton (FKM FPM), polysulfide rubber, Acrylic Rubber (ACM).
2. Good wear resistance and high tensile strength: can be used for oil resistance rubber sealing gasket & O-ring
3. Good anti-static property and air tightness
4. Strong adhesion
5. Good compatibility with polar materials like PVC, POM, Nylon etc. it can be made into polymer (plastic+rubber) materials.
6. Poor resistance to Ozone, sunlight & weather, not good for outside productions
7. Can't be at exposure of aromatic solvents, halogenated hydrocarbon solvents ad ketones & esters solvents.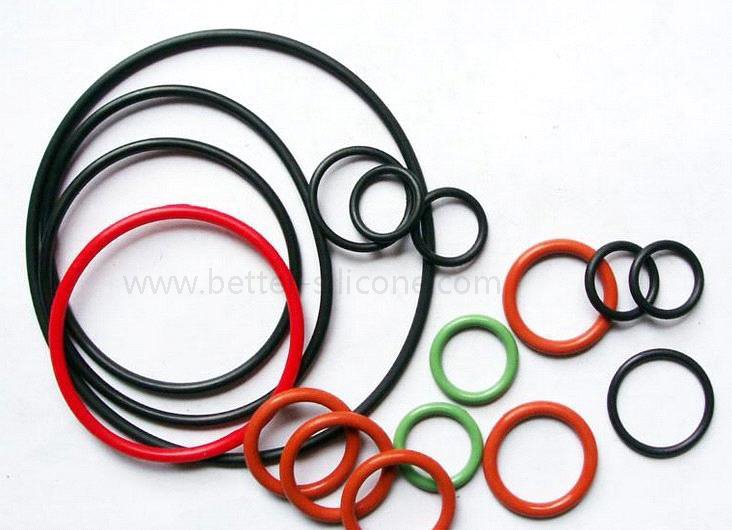 Nitrile Rubber Gasket Material Specifications
Polymer: Nitrile Butadiene Rubber, NBR & Buna n
Nitrile Rubber Density: 0.95g/cm
3
~1.02g/cm
3
Working temperature: -20
o
C ~ 100
o
C,
High temperature: 120
o
C
Lowest temperature -50
o
C~ -55
o
C
Hardness: 30 Shore A ~ 90 Shore A
Tensile Strength: 15MPA~25MPA
Compression Ratio: 7% ~ 20%
Nitrile Rubber Gasket Material Application
Application Fields:
Aviation fields
Automotive fields
Printing fields
Textile fields
Machinery manufacturing
Application for products:
Oil resistant parts: oil pipe, tape, rubber diaphragm and large oil capsules.
Oil resistant compression mold parts: O-ring, oil seal, gasket , diaphragm, valve, bellows, hose, washer, foam, etc.
Wear-resistant parts: Bushing, sleeve,covers.
Xiamen Better Silicone Co.,Ltd, only can make rubber compression and injection moulding and produce all kinds of high qualified EPDM rubber sealing gaskets & o rings & washers for many industries, but also can produce other different rubber materials like: Food grade MVQ, Medical Grade Liquid Silicone Rubber & LSR, EPDM, CR,NR, SBR, IIR sealing gasket, O Rings, Washers & sheets.